Choosing your favorite creation is LIKE picking your favorite kid! But just for fun, I asked the artists of ArtFire what their personal favorite is of all of their creations... what a gorgeous collection of treasures!
Above you see my "Black Dahlia Peacock Menagerie" One of my all time favorite creations... and my first sale on Artfire! Below you will find personal faves of some of MY personal fave Indie Artists!
ENJOY! ~~~
Jenn Kos
of Metal Petalz
~ A Unique Boutique ~
http://www.MetalPetalz.com
http://www.facebook.com/MetalPetalz
---
Like you said it´s like picking a favorite child, but right now, and because it's Summer, here's mine:
White Dotted Ruffle Necklace



The first time I saw this kind of necklace was on a neck..... and fell in love with it. But it was very simple, it only had the ruffles on the metal chain. When I got home I went to my little fabric pieces and got started. After the ruffle I sewed the synthetic pearls and the rose, and it was sooooo beautiful (a least in my opinion!!), it looked awesome in my neck. Then I made another for my other shop, and it's very beautiful also, in USA colors, or if you prefer, in navy colors.

Thank's for this great idea!


http://www.artfire.com/users/NOTON
It was completely sculpted in polymer clay from my imagination. (except for Sant's mustache and beard which are lambs wool) No molds were used. I actually made three of these. Posed slightly differently, but, with the same composition. The other two had actual fabric clothing. I used red velvet. On this one the entire piece, including Santa's clothes, is polimer clay. The figures are nestled in pine brances. This piece is not for sale. Many, many hours invested. I may make some on a smaller scale (6 to 8 inches tall), but, haven't decieded yet.
---
---
My favorite creation that I am surprised I didn't sell yet is the Personalize Birthday Hats for Dogs. I think they are really cute. How can you say no to this.


I create durable dog toys,cat toys,pet head wear,and upcycled pet feed mats. Pet items links are:
http://www.artfire.com/users/CritterCrafts
________________________________________________________________________________
---
I just recently posted this favorite item of mine, I love turquoise and the southwest with all its beautiful cactus flowers and Native American designs. I went to Arizona this past April and bought a Turquoise stone from bead store in an Indian Reservation. The stone is mined from Kingman, Arizona is known for its beautiful golden matrix. I then constructed a sterling silver bezel and pendant for mounting the stone, and added sterling cactus flowers on the bottom of the pendant. I was not going to put it up for sale, but I probably will be going back out to AZ next year and get more stones. Here is a pic.
---
Okay, I don't really have a favorite. I think that my favorite is whatever my newest creation happens to be. But there is one thing that stands out in recent memory. I made a pair of earrings and a bracelet for an attorney at work who got married in May. The pieces were a gift for her bridal shower, and although I didn't expect her to wear the pieces at her wedding, I did make them with white pearls and clear Swarovski crystals.
At the bridal shower the earrings were a big hit. Another attorney commissioned me to make a pair for her but a different color. I really wasn't looking forward to it because these earrings take 4 hours
per
earring. I can make 5 necklaces and a couple of bracelets in the time it takes to make these earrings.
But, she liked them so much that she wanted another pair using a different color crystal. I have to say that although I
hate
making these earrings, I do like the final product (sort of like giving birth).
I will be making more in the future, but I will be make them between other projects, in 30 minute increments. Here they are...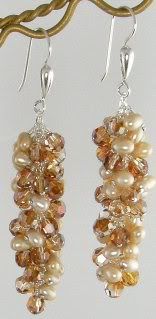 ---
For me, I would have to say my froggy is my favourite. Years ago my mother had made me a long legged frog stuffy and he went everywhere with me. I was about 7 years old or so at the time I believe. Anyways, I still think about that froggy at the oddest moments and it is one reason why I kept trying to come up with a cute pattern that a cat would enjoy playing with when I started making catnip toys This is what I have come up with. Each one is slightly different and has quite the personality I think LOL
There is a picture of another one I made in my gallery, and I even did a blog post about my prototypes last spring LOL.
---
I put a lot of work into this charm bracelet. I love blue and green colors. My inspiration behind this piece was a vintage garden. I love the Antique brass. I wanted to make something that expressed Vintage romance.
christina
---
This is my favorite piece. I love my polymer clay beads and I was able to find matching silk strands- so colorful! It was alot of work, and I may have paid too much for the silk...is it too expensive?
---
My favorite creation? This glass pendant featuring a "bird" with a cartoon beating heart. I believe it captures my vision to create one of a kind pieces - lol.
---
this one has always been my favorite.
it was one of the first items i listed here. one of the first tries i did at wire wrapping. it's a piece that makes me happy when i see it. maybe i'm blocking it mentally -- no one has bought it yet! LOL
---
This was the first photograph that I took that was worthy of selling. After hearing how much people would love to have it on their wall I opened my studio here. It hasn't sold though and I have it in three sizes
http://www.artfire.com/modules.php?name=Shop&op=listing&product_id=1499280